Getting kids involved in mealtime prep can help get their mind and body ready for food consumption. It prepares them for what they will be seeing when they get to the table and it will start to (hopefully) get them hungry. We encourage you to invite your child to participate in meal prep in whatever way they can!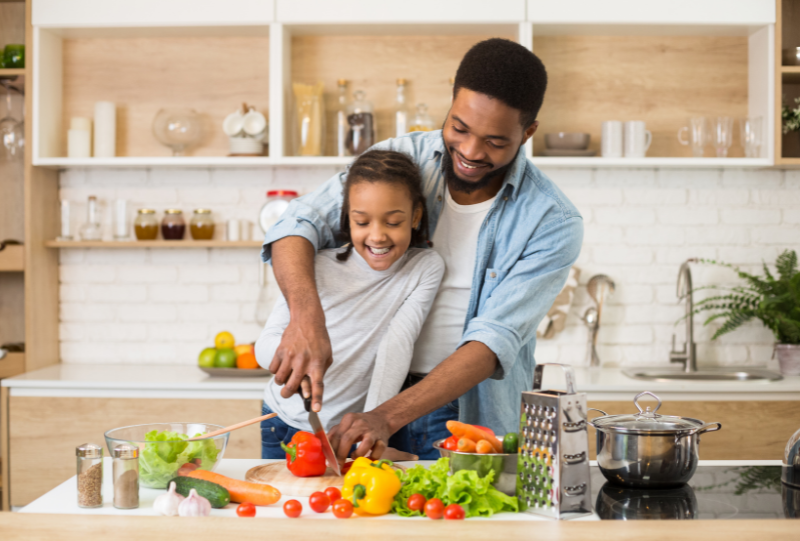 Subscribe to Foodology Feeding
This is a good first step for kids who don't love to be around food. Ask them to help you move ingredients from the pantry to the counter, or to hand you an ingredient that you need when you need it. ​Sometimes, you may need to plan ahead and create a setting where it just makes sense for them to get the ingredient for you. Like, "Oh hey, I left a box of pasta on the couch. Can you bring it to me please?"
Ask your child to set up the table for mealtime. They could help set out plates, utensils, cups, etc. And, if you're serving a family style meal, you could give your child a "job" to help serve each family member different food items. Kids love to help out!
I know shopping may be something you just need to get through quickly, but if you have a few extra minutes, try letting your child explore some different foods at the store! Let them choose out a couple of fruits or veggies as you're walking by. Even if you just buy a small amount of it, your child may be more willing to try it later.
There are so many different preparation steps your little one could help with – pouring, mixing, measuring, stirring, chopping (there are kid-friendly knives), and more. If your child won't touch the food outright, try offering a fun tool. Some kids won't dip their finger in, but they're willing to use a tool to interact with the food! Here are a few fun tools or gadgets you could try: colorful spoons, cookie cutters, a salad spinner, tongs, or one of those push whisks!
LET THEM HELP PLAN THE MEAL
Getting your child involved in meal planning will help your child know what to expect to see at the table, and they can help plan out which "safe food" they want to eat with the meal. If you child can read, you may even try "posting" your meals on a whiteboard weekly!
Need Help With Your Child?
Want to learn more strategies? Check out my book
Mealtime Mindset
​to help switch gears in your child's mind from fear and frustration to fun and joy. 
Mealtime Mindset Book